It's the most miserable time of year. The holidays are long over. It's snowing every other day. Several areas are encountering record-breaking conditions, whether it's below-zero temperatures or snow accumulations. The weather is enough of a reason to make someone feel depressed. Yet, the weather is the least of our concerns with work, chores, personal commitments and other pressures in our daily lives.
This thought of depression prompted me to search, "What is the most depressing month of the year?" Apparently, I was wrong. January is known as the most miserable month of the year. The third Monday in January has been coined "Blue Monday" because of the weather, holiday debt and the drop in festivities after Christmas and New Year's. So now is not the most miserable time of the year, even though it sure feels like it!
Depression is common, especially when new stresses or factors out of your control emerge. It's important to keep your head up high and seek help, if you need it, so depression does not impact all of the aspects of your life. Several years ago in college I experienced depression for a short period of time. I sought help; I got better. As a result, I want to share a tool that was given to me. After you use it, hopefully you'll start to see the brighter sides of the winter (i.e. lazy Saturdays)!
Draw two pie cha
rts: one that resembles your life right now and one that resembles how you imagine your life happier. Be honest about how you allocate your time. If you're not honest, you won't discover what is making you unhappy. Put effort into making your schedule more like life when you're happy than life right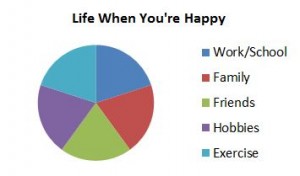 now. If spending time with your family makes you happy, make more time for your family. If writing makes you happy, put aside 10 minutes of each day to write. It's hard to depict what your life looks like without drawing it on paper.
Another tip: a pie chart can be a great time management tool. Draw a pie chart to illustrate how much time you should spend on your tasks each week. Post it in your office, room or kitchen to serve as a constant reminder of how you should be managing your time.
Was this tip helpful? Do you use a different tool or method to de-stress and/or manage your time? Share your feedback in the comments section.
Related post: You will experience hard times at work, but you will survive.